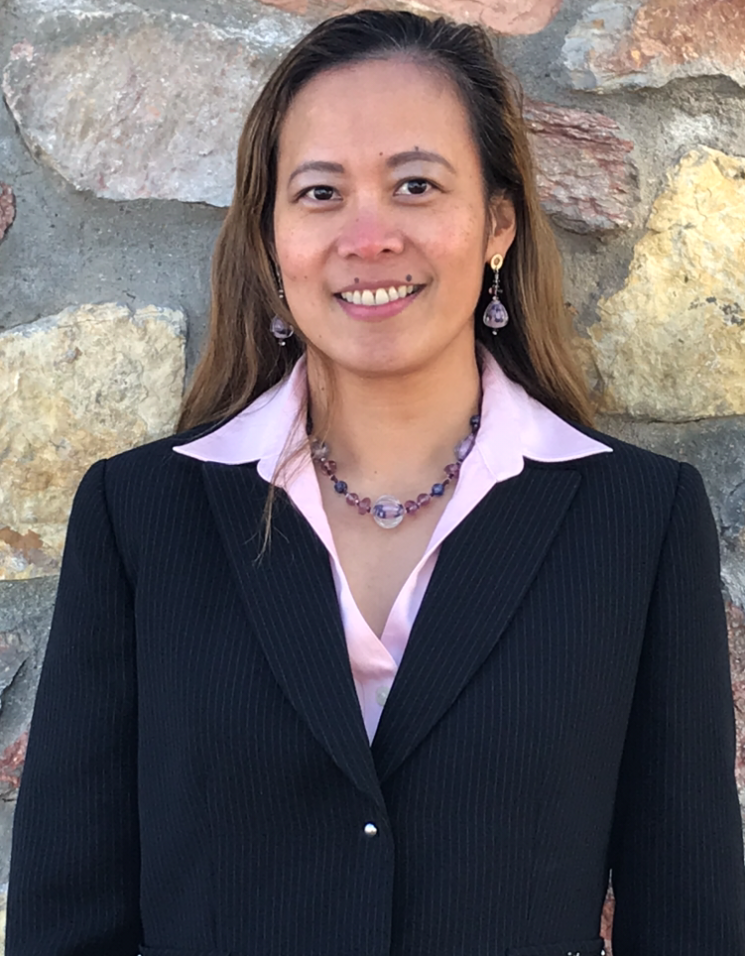 Michelle Fernandez Cendaña is an ordinary province girl whose life story is unfolding as a beautiful tapestry of God's bountiful blessing, unmerited favor, unconditional love, unending grace and unfettered mercy. Michelle was born about 10 minutes before sunrise in Dagupan City, Pangasinan Province in Northern Philippines. When her family was supposed to be celebrating her birth, the joy they should have been experiencing, at the moment was eclipsed by mourning her mother's (Minerva) death just hours after giving birth to her.
Michelle's conception and birth story could be described as hidden, unplanned, unorthodox and untimely. Her unwed mother was a third-year nursing student who kept her pregnancy secret and died without taking the opportunity to reveal the identity of Michelle's father. Michelle's beginning may have looked bleak, but one would not need to take much time to scrutinize her life story to see God's hand in all of it.
Michelle was raised by her loving Christian grandparents (Tomas and Luisa) and was adopted by her mother's brother and his wife (Manuel and Luisa). She was brought up in a Methodist Church and regularly attended Sunday school and church services. Her family, especially her grandmother, encouraged her to study well and gave her all the opportunity to excel in school and in extracurricular activities, without putting unnecessary pressure on her. However, Michelle began to place demands on herself to excel in academics when at the age of seven, she learned her true story. The self-inflicted pressure created an opening for fear of failure and of the unknown, misplaced pride and false sense of identity.
Michelle was an atypical child in that she acted maturely, but she was also mischievous in a lot of ways. Her participation in highly visible scholastic competitions made several high school mates describe her as arrogant. She did not appreciate that label and she began to ask God to show her how she could change that perspective. At 14, while attending a Sunday Youth Bible Study, the question, "Who do you trust in to have eternal life?" made her quickly realize that she was not good enough to secure a seat in heaven, so she accepted Jesus Christ as her personal Lord and Savior – the only way to God the Father.
At 17, Michelle immigrated to Hawaii to join her family. In Hawaii (earth's paradise), Michelle experienced one of the toughest challenges she had ever faced that brought her to her knees. She wanted to escape reality at the time by contemplating returning to the Philippines or stowing away to the Mainland U.S. Her saving grace was her faith in God, which through this hardship, she sought answers from Him. Each day, God gave her the strength to carry on. Although she could not see what the future held, she clung to God's promises that her latter days would be brighter than her former days.
The Lord provided Michelle the escape she longed for while not knowing at the time she was stepping into her destiny – service in the U.S. military. In retrospect, the Lord showed Michelle that the hardship that she endured in Hawaii was necessary. The byproduct of the hardship was humility. That character development would be required in the positions she would hold and experience as a Soldier, a Non-Commissioned Officer and a Commissioned Officer. On her second assignment to Germany, Michelle crossed paths with Pastors Mike and Vera Warner at the World Harvest International Center, which led to her current volunteer work as the Treasurer of In His Image Women of Excellence Ministries.
Michelle has a master's degree, served as a White House Social Aide, deployed twice to Iraq, has lived, worked and visited 43 countries so far and claimed none of these is her doing, but God's marvelous work in her life. Her passion is in sharing the Good News of Jesus Christ, standing in prayer for breaking generational curses (fatherless children, poverty, broken families), advocating chastity before marriage and living out God's calling on her life.